What is a Facebook App and how can it be used for your business?
Try these:
A mini microsite or version of you website with in Facebook. This will allow you to showcase your company and services to Facebook users while within Facebook
Have an online store and want to create another channel for selling and distributing your products? You can use Facebook to publish your inventory and products directly from your website into Facebook with out have to recreate any complex shopping cart or backend systems. Once a purchase has been made the buyer can share this experience with friends and colleagues with in Facebook, increasing the likelihood of return traffic
Running Surveys and need to gather data for research. Try creating a survey collection form on Facebook and allow your Facebook visitors to share this with their Facebook friends for viral exposure
Running a promotion? Build your promotion page and portal directly into Facebook eliminating the need to create a dedicated website. Take advantage of your visitors networks by allowing them to share your promotion with their Facebook friends
Do you publish newsletters. Thought of distributing your newsletters via Facebook to your followers and their friends.
All the above options and many more are available to you on Facebook.
Located in Brisbane, Magik New Media can help you understand the myth of Social Media Marketing and Facebook App Development so you can make Social Media work for your company.
As more and more people use the Facebook platform for keeping in contact with their personal and business contacts, they are using the built-in Facebook Search Bar to find other information online. What this means is that rather than Searching Google for your business people might be searching Facebook.
Facebook is quickly becoming one of the largest online portals for user traffic.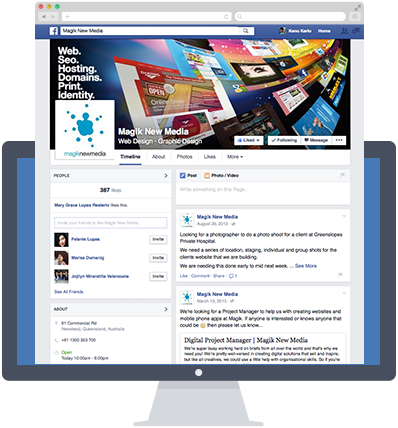 Do you have a Facebook App, or a Facebook Page for your business yet?
Then talk to Magik and lets help you take advantage of the Social Media phenomenon and get your brand
online now.